You and I
Zweites Studioalbum
Das zweite Studioalbum, aufgenommen bei Little Konzett im Little Big Beat Studio, ab sofort erhältlich. Jetzt reinhören!
Erhältlich:
Tracklist
1. Starlight
2. Breathe
3. Turn the lights on
4. Stay
5. Falling man
6. Shout it out
7. Kaleydoscope
8. You and I
9. Stay (Acoustic Version)
Produced by Keaden & Little Konzett
Recorded, mixed and mastered by Little Konzett at LITTLE BIG BEAT STUDIOS, Eschen, between November and December 2021
Assisted by Christof Raggl
Pro Tools editing by Kurt Keckeis
Music & Lyrics by Keaden
Guitar World, Tech and Sound by Rolf Büchel
Additional Samples, Programming and Synthesizers by Götz Arens
Additional Percussion by Little Konzett
Artwork by Büro für Gebrauchsgraphic AG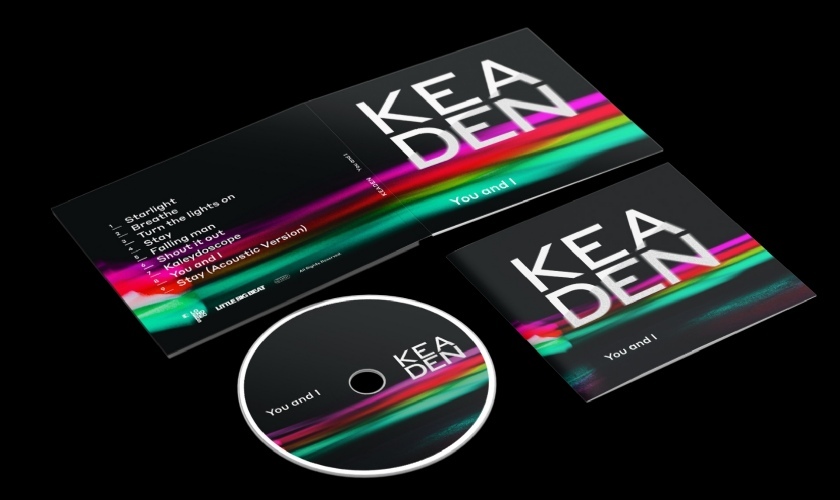 Under Your Skin
Erstes Studioalbum
Erstes Studio-Album, aufgenommen bei Tommy Vetterli im New Sound Studio.
Tracklist
1. Under Your Skin
2. Princess Life
3. I Want To Know Myself
4. Shelter In The Pain
5. Here I Am
6. Star Shines Deep Inside
7. Love Wil Go On Love Will Stay
8. Lude
9. Hello
10. Catch Me If You Can
11. Sunday
12. Feel Safe
13. Piano Song
Erscheinung: 25. Januar 2008
Erhältlich: